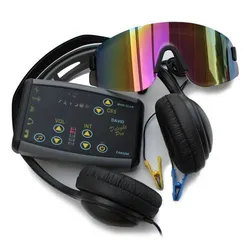 Audio-Visual Entrainment uses flashes of lights and pulses of tones to gently and safely guide the brain into various brain wave patterns to boost your mood, help with sleep, sharpen your mind and increase your level of relaxation. It is an effective, inexpensive alternative therapy for many disorders such as Attention Deficit Disorder (ADD), Seasonal Affective Disorder (SAD), fibromyaligia and chronic pain. Our AVE devices are also used successfully to boost physical performance for athletes, academic performance for students and cognitive performance for seniors. AVE is also commonly referred to as brainwave entrainment (BWE).

Brainwave patterns are commonly grouped into four different categories: Beta, Alpha, Theta and Delta. Each of these brainwave patterns is associated with various states of mind.

Go to this link
Beta Waves are quick, low amplitude waves of 14 to 40 times per second (Hz). Beta brainwave patterns are generated naturally when in an awake, focused and alert state of consciousness.

Alpha Waves are between 8 and 13 Hz and occur during sensorial rest (eg. when the eyes are closed), intellectual relaxation, deep relaxation or meditation. Alpha brainwave rhythms produce: peaceful feelings, warm hands and feet, a sense of well-being, improved sleep, improved academic performance, increased productivity in the workplace, reduced anxiety and improved immune functioning. It is believed that many creative geniuses, such as Einstein, were in a semi-permanent Alpha state.

Alpha/Theta Border are the Schumann Resonance and the State Five Meditation sessions. At the Alpha/Theta border (7 to 8 Hz), exceptional insights and personal transforming experiences can occur.

Theta Waves are between 4 and 8 Hz and are commonly referred to as the dream or "twilight" state. Theta is associated with hypnogogic states, REM and dreaming. Memory development is enhanced in this state. In the Theta brainwave state, memory is improved (particularly long term memory), and access to unconscious material, reveries, free association, sudden insight and creative ideas is increased.

Delta Waves are observed when in a sleeping state. As we fall asleep the dominant natural brainwave becomes Delta. Delta waves are the slowest of brainwaves spanning from 1 to 4 Hz in frequency. There is growing evidence that individuals may maintain a slightly conscious state while in Delta.