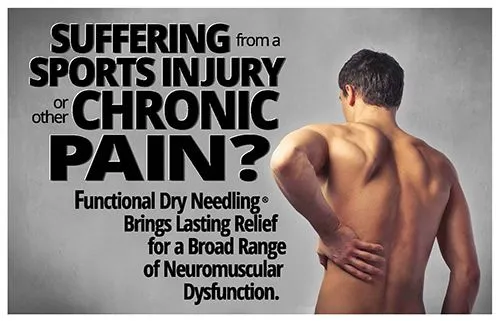 Dr. Christina has had advanced training in a therapeutic procedure called Dry Needling. She believes that balancing the muscle system and relieving painful trigger points is the key to maintaining a healthy body.

Dry Needling involves the insertion of a sterile, solid, stainless steel needle into a muscle trigger point with the intention of achieving a desired physiological, neurological, or myofascial response. The goals of dry needling (dry meaning without the injection of medicine) is to relieve trigger points that may be tender/painful and to relax any ropey band in a muscle, which can cause pain at a site or refer pain to a specific area related to that muscle.

The goal of Dry Needling is to reduce pain and restore normal function of muscles and joints by specific, purposeful and targeted inserts of needles into carefully selected myofacial tissue, particulary in the muscles. The nervous system will be "rebooted," breaking the pain cycle and expediting healing of chronic injuries.

To schedule your appointment with Dr. Christina Today, call (423) 434-2080
Dry Needle results will always vary for individuals, depending on the individual's physical condition, lifestyle, diet and personal commitment. The information provided on this website is not intended to diagnose, treat or cure any condition, and has not been evaluated by the FDA, and it is not meant for you to self-diagnose or self-treat your specific health issue, information provided is not intended to diagnose, treat, cure or prevent any disease. Doctors are licensed Chiropractors in the State in which they work.